We actively support our clients worldwide to attract, find, performance monitor and retain the very best profiles.
GBI International Consulting connects top talent with top companies within the Aerospace, Aviation, Space, Defence and Security sectors.
Our focus as an international provider is finding the right opportunity for our candidates from Entry level to Experienced, from Workers to Top Management profiles.
Our experienced consultants are former Talent Management, Talent  Acquisition and Technical Recruitment leaders, their expertise and knowledge of these sectors make of them the perfect partners to work with.
At GBI International Consulting, we take care of the individual as a key element of an organization. We are career makers not career breakers!
We have a responsibility to hold ourselves to high ethical standards and to demonstrate ethical business practices that other firms can emulate.
We strive for high levels of integrity in everything we do.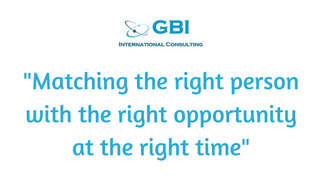 We have a global database and a large network to connect our high potential and top performing candidates with fantastic companies across the world.
Thinking about your next move?

Please send us your up-to-date resume to talent@gbi-international-consulting.  Our experienced consultants will contact you at your convenience  to discuss your professional objectives, career progression and aspirations. All information will be treated as strictly confidential.